Complete Story

03/26/2010
Joseph Uberti, M.D., Ph.D.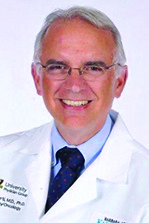 Dr. Uberti currently serves as the Chief, Division of Hematology/Oncology at Wayne State University and Co-Director, Blood & Marrow Stem Cell Transplant Program at Karmanos Cancer Institute. Recently, he was appointed the Lambert/Webber Endowed Chair in the Department of Internal Medicine.
You might say that Wayne State University is a second home to Dr. Uberti. It is there that he received all his formal education and training. In 1973, he completed his B.S. in Biology and received Graduate with Distinction and Phi Beta Kappa recognition. In 1979, he received his Ph.D. in Biochemistry and was honored as Outstanding Graduate, Student Research and Sigma Xi. In 1983, Dr. Uberti received his M.D.
Being of service is a continuous commitment that Dr. Uberti makes to his professional community. In addition to treating his patients, he serves on multiple committees at Karmanos, some of which include the Quality Assurance Committee, Clinical Executive Committee, Clinical Leadership Council and Recruitment & Retention Committee. Dr. Uberti is the Medical Director at Karmanos for the Radiation Injury Treatment Network in conjunction with the National Marrow Donor Program. Dr. Uberti is also the Head Faculty Adviser for a medical student group at Wayne State University, H.O.P.E – Hematology & Oncology Peer Education Group. The mission of this group is to educate aspiring physicians about blood disorders and cancer and the fields of hematology and oncology, while also serving as a resource for volunteer, research and residency opportunities.
It is no surprise that in recognition of his good works, Dr. Uberti has been awarded WSU Teacher of the Year, Department of Internal Medicine, Division of Hematology. He has received Top Docs Award by Hour Magazine and has received the Best Doctors in America Award.
Dr. Uberti and his wife, Kate, reside in Northville. They have two children, Chris who attends college at Purdue University and David who attends college at Northwestern University in Chicago. In Dr. Uberti's spare time, he enjoys outdoor activities, hiking, mountain biking and cross country skiing.
---
Report Broken Links
Have you encountered a problem with a URL (link) on this page not working or displaying an error message? Help us fix it!
Report Broken Link